Blog :: Cheat Sheet Statistics with Google Analytics!
Join Us on Facebook!
Want to know more about the people downloading your cheat sheets? No problem! You can now link your cheat sheets to your Google Analytics account!
Building cheat sheets is fun, but the best bit is setting your work being downloaded around the world. At the moment, you can see which countries your cheat sheet PDFs are being downloaded from, but we wanted to give you more!
So, we have added a new gizmo to the site. You can now link your Google Analytics profile to Cheatography account, and harness all of the power of Google to see where your cheat sheets are being downloaded from and who is linking to them from other websites!
How To Add Google Analytics To Your Profile
To get started, you'll need a Google Analytics account (which is free - thanks Google!).
You'll need to create a new property, to be able to track cheat sheet downloads properly. If this is your first Google Analytics property, you'll be prompted to set up an account. If not, you'll need to click on "Admin", then ...
Your Account Name can be anything you like, and we'd suggest "Cheatography". The Website Name can also be anything you like, and we'd suggest "Username Cheat Sheets" (replacing "Username" with your username, of course).
The Website URL should be "www.cheatography.com". The Industry Category can be anything again, but "Computers and Electronics" is pretty close to appropriate. And finally, the timezone can be whatever you like (probably best to use the timezone where you are ...).
You might be asked to accept the Terms of Service, but eventually you should make it to a page that looks a bit like this: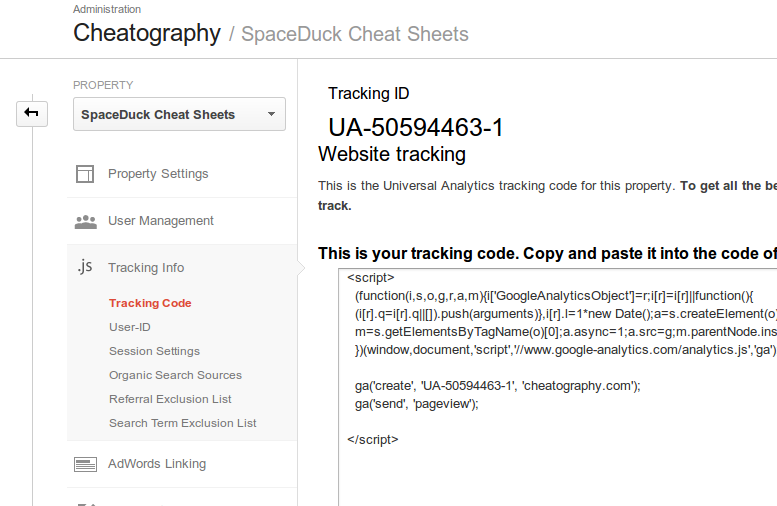 If so, congratulations! You've set up your Google Analytics account correctly. Now, make a note of your Tracking ID. It looks something like this: UA-1234567-1.
Don't worry, we're almost finished. Next, visit your Edit Profile page on Cheatography (you can find it by clicking on your username, then "Edit Profile" at the top of the page).
Type your Tracking ID into the Google Analytics ID field, and save your changes:

That's it! Your should start to see tracking information for your downloads appear pretty quickly. The "Real Time" view is particularly addictive!
Let us know if you have any problems getting started!
Cheat Sheet Statistics with Google Analytics! was posted on 2nd May, 2014.
Subscribe to the RSS Feed!
Comments
No comments yet. Add yours below!
Add a Comment